Useful things to know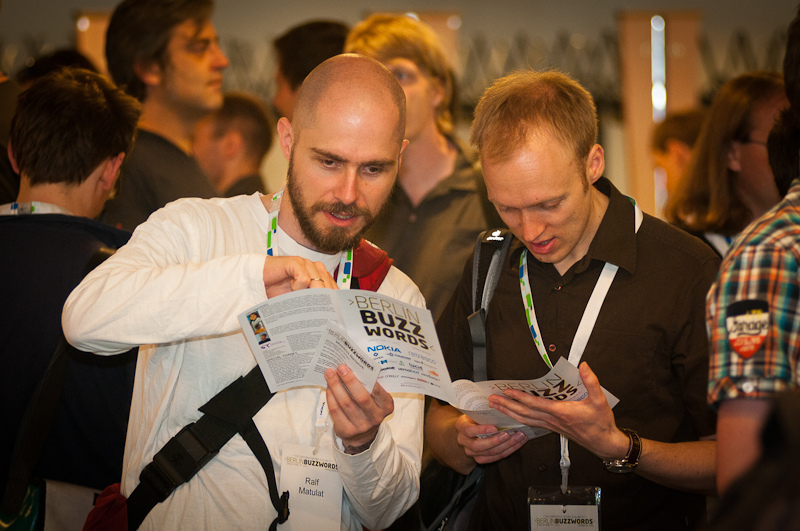 With only a few days to go before the doors open to this year's Berlin Buzzwords we are excited about all the workshops, talks, hackathons and the Berlin Buzzwords BarCamp.
If you join the #bbuzz BarCamp on June 2nd at Kulturbrauerei you can bring your ticket printed out so you can already check-in and save time on Monday Morning to enjoy the breakfast.
The accreditation opens on Monday 3rd at 8.30 am and on Tuesday 4th at 9 am. Berlin Buzzwords welcomes you with a delicious breakfast, therefore it is worthwhile to be early at Kulturbrauerei to start the conference with a great coffee.
Please register at the accreditation desk with your ticket and bring the ticket printed out! Unfortunately it is not possible to scan tickets from smartphones and laptops. At the accreditation desk, you will get a Button to write your name on and a wristband. Please keep it until the end of the conference.
Both our Open Stage and our #bbuzz party are public so people without a ticket can join us there. The #bbuzz party takes place on Monday starting at 6:00 pm at Kulturbrauerei!
How to get to Kulturbrauerei:
Schönhauser Allee 36, 10435 Berlin (link to Google Maps):
U-Bahn: U2 Eberswalder Straße
S-Bahn: Ringbahn S42, S4 und S8
Tram: M12, M1, M10 (Eberswalder Straße)
The BVG website can be used to check all current train and bus connections: http://www.bvg.de/
Car
There is a fee-charging parking garage at the entry Sredzkistraße
- from 7am until 7pm 1,50€/h
- from 7pm until 7am 1,00€/h
- max. Daily rate 8,00€/h
We are looking forward to seeing you in Berlin!